Amusement Today's 2017 Golden Ticket Awards (GTAs) will be a genuine "Blast From The Past."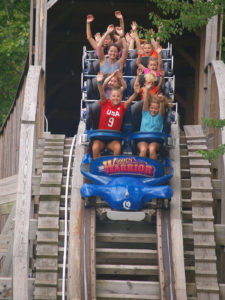 To be held Friday and Saturday, Sept. 8-9 at Connecticut's Quassy Amusement & Waterpark and Lake Compounce, these two historic properties will be pulling out all the stops to present a two-day bash that will not soon be forgotten.
The Friday evening kickoff will be held at Quassy, one of only a handful of remaining trolley parks in America (founded in 1908). But don't let age fool you as the lakefront property has blended its heritage with some of the newest attractions on the planet.  GTA attendees will enjoy cocktails and live entertainment on the midway and may participate on some of the thrills rides, including the award-winning Wooden Warrior roller coaster. Dinner will be held overlooking Lake Quassapaug with the evening capped off with a spectacular 3-D fireworks display.  Yep, industry attendees will get to sport some snazzy 3-D glasses for that!
Saturday, the activities move to Lake Compounce, America's oldest continually operating amusement park (1846).  GTA attendees will have the opportunity to enjoy the rides and attractions during the day, including wooden and steel roller coasters. The park is the home of Boulder Dash, rated the top wooden coaster in the world on the 2016 GTA ballot. Also,  Phobia Phear, the newest coaster in the park which puts a unique spin on big-time thrills, will be awaiting attendees.
The Golden Ticket Awards ceremony will take place at Lake Compounce's Starlight Ballroom with dinner and some fantastic entertainment.  Following the gala, there will be an exciting sendoff with a bonfire and after- dinner drinks.
Both parks encourage casual attire so attendees may enjoy everything on the agenda.