The Golden Ticket Awards are reserved exclusively for working professionals in the amusement industry such as park owners, operators and management, as well as manufacturers, designers, vendors and consultants. 
Friday, September 8
Quassy Amusement Park

5 p.m. to 9 p.m. – Cocktails 
Location – Quassy's Carousel Theatre stage area, Quassy Restaurant and Bella, and Bessie's Sweet Shoppe
5 p.m. to 7 p.m. – Rides on the award-winning Wooden Warrior and more!
Enjoy rides on the Wooden Warrior roller coaster, Frantic, Reverse Time, Tea Cups, Grand Carousel, Free Fall'N Drop Tower, Quassy Express train, Skipper's Clippers and Up, Up & Away.
5 p.m. to 8 p.m. – Live entertainment
5:30 p.m. to 6:30 p.m. – Fantastic Appetizers at Bella & Bessie's Sweet Shop & Potato Patch In The Park
6:30 p.m. to 7:30 p.m. – Dinner at Quassy Restaurant and Patio Party area
Location – overlooking Lake Quassapaug
8:15 p.m. – Spectacular '3-D' Fireworks
Location – overlooking Lake Quassapaug
9 p.m. – Event closes
Saturday, September 9
Lake Compounce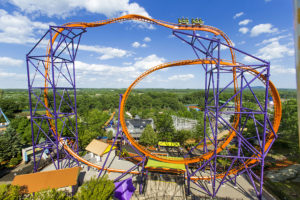 11 a.m. – Park opens!
A shuttle bus will run to and from the Doubletree by Hilton (Bristol, Conn) to the park
11 a.m. to 4 p.m. – Free to roam & enjoy Lake Compounce
2 p.m. – Campground Tour
2 p.m. – Tour of revenue areas
3 p.m. – Tour of the Haunted Graveyard setup
3 p.m. – Tour of the maintenance area
4 p.m. – Cocktail hour with music and appetizers
Location – catering area

5:30 p.m. to 6:30 p.m. – Dinner
Location – catering area
6:30 p.m. – Procession to the Starlight Theater
7 p.m. to 9 p.m. – The 2017 Golden Ticket Awards ceremony
9 p.m. – Post-Party at the Croc Pot
Location – overlooking the Lazy River
Featuring: Music, dessert bar, open bar, and fire pits